Intermediate – Advanced Permanent Makeup Training Classes
Hair Stroke Eyebrows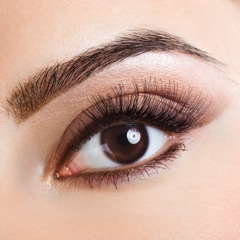 You will learn the correct methods of applying advanced permanent eyebrow makeup such as Feather Hair-Stroke Technique. Permanent Feathered Hair Strokes is a revolutionary 3-D effect for natural looking permanent makeup eyebrows. Permanent hair stroke eyebrows are great for filling in sparse areas of the brows to naturally blend with your own skin and hair color.  Permanent hair stroke brow color is  perfect for brows that have been over tweezed and won't grow back. The Feather Hair-Stroke design gives a nice, soft, natural appearance that looks like real hair, and is performed with a manual device that has no motor.  This technique takes precision and advanced training to perfect, and should only be done by a qualified permanent makeup artist with advanced permanent makeup training.
Some clients prefer an appearance similar to that which is produced by their eyebrow pencil (for a more "Powdered" eyebrow design), which can be done with brow feathering. This technique also takes specialized training and creative artistry.
Clients who had previous permanent makeup that has become dull and faded can refresh their look by adding new Feather Hair strokes on top of that old flat color. Permanent Eyebrow Hair Strokes will give you new definition and a 3-D effect.
You will learn the correct application of various techniques that can be employed to create a natural eyebrow design.  You will learn how to consult with your client, properly assess the eyebrows and come up with the perfect design and symmetry to the client's the face shape and specific needs.  Sometimes, blending the two techniques of Powdered Brow Color and strategically placed Feather Hair-strokes is the way to go.  Proper placement of the eyebrows can ensure your client will enjoy a more vibrant facial appearance for many years to come.
Advanced Permanent Makeup Class
Para Medical Micropigmentation – Areola Repigmentation
Para Medical Micropigmentation – Areola Repigmentation is a Permanent Makeup Procedure that will safely restore the natural beauty of the breast for women who have undergone mastectomies, other breast surgery, or who may have irregular or fading areolas, these permanent paramedical breast restoration procedures are nothing short of a medical miracle. You will learn the correct methods of applying permanent areola repigmentation and nipple restoration, Para medical pigment implantation techniques employ cosmetically tattooed micropigmentation as a way to restore the natural beauty of your breasts so you can regain confidence in your own femininity.
Areola Repigmentation is a specialty area of permanent cosmetics that requires advanced education, training, and experience. This procedure will greatly improve the appearance of the areola and help to raise the self-esteem of men and women who have undergone breast surgery.
Many techniques are applied during areola repigmentation and you will learn to correctly recreate an areola after a breast reconstruction, minimize the appearance of scars from surgery, or reshape and recolor an areola to give a more natural look.
Other names for areola re-pigmentation are:
areola restoration
areola simulation areola pigmentation
areola recoloring
areola tattooing
areola micropigmentation
The areola is included in both the anatomy of men and women alike; it is the small, dark, circular area of skin that surrounds the nipple. The areola is a key factor in the aesthetic look of a breast to both men and women. Since a woman's self-image can rely heavily on the look and shape of her breasts, a fading or missing areola can be a psychological barrier to her physical self-esteem.
Breast cancer can force a woman to undergo a mastectomy; afterwards, a breast reconstruction surgery can be performed. It is possible that after the surgery, she will not feel 100% complete without an areola. A man can also have his self-esteem lowered by the appearance of his chest and pecks. Areola repigmentation can provide that necessary final addition after surgery. Many clients feel the repigmentation procedure has helped them through the final part of the recovery stage, now they can look and feel complete again.
Skin Needling Procedure – Collagen Induction
You will learn the correct techniques when Skin Needling, also referred to as Intradermabrasion, Facial Mesotherapy or Collagen Induction Therapy.
As people age they turn to many types of resources to try and maintain their youthful looks.With so many aging boomers looking for a fountain of youth there is also a great influx of new techniques and anti aging products coming onto the market to meet this rising demand.
One of these techniques is called  Initially one may think of acupuncture, this is certainly not the case with skin needling. It is actually a fairly non evasive therapy, certainly less insidious than plastic surgery, chemical peels or dermabrasion.
Because skin needling is less invasive than other skin treatment available, there is less risk of a medical difficulty arising from the procedure. The time it takes to recover and heal up from skin needling is very rapid with results appearing soon after the procedure. Skin enhancement is evident after a number of treatments that are staggered two to three months apart from each other.
This skin therapy has displayed effectiveness in the following areas:
• Levels wrinkling and smoothes obvious lines
• Skin quality is enhanced
• Reduces scars
• Improves the scarring of depressed acne
• Improved look of stretch marks
• Smooth and soften old, tightened surgical scarring
Skin needling – facial Mesotherapy, are commonly carried out using a form of skin roller. This skin roller makes a lot of miniscule perforating wounds to the dermis, the underlying secondary skin layer. When this damage occurs to the dermis, it stimulates the discharge of growth factor, which in turn encourages the manufacture of new collagen and elastin. This fresh collagen creation is the foundation for every skin replenishment and revitalization therapy.
There are skin needling machines, which are used for more focused targeting of areas that are tough to get at. The procedure is perfectly safe when performed in sterile conditions and with no chance of cross contamination. There is no chance of an allergic reaction and no side effects will be experienced by the patient/client. There is very simple aftercare and since the procedure is minimally invasive, remote chances of any post procedure difficulty.
When skin needling occurs, it does so without any injury or harm to the healthy outer layer epidermis, while the object is to generate damage to the dermis. Other invasive skin replenishment systems do cause damage to the epidermis so this is an important factor for skin needling.
Since the epidermis is left undamaged as a whole, the healing and recovery from skin needling procedures is much more rapid. There is no danger of permanent structural tissue damage, photo sensitivity, loss of skin tone or hyper-pigmentation. Skin needling is an effectual treatment for vulnerable skin regions that the other techniques must stay away from. This includes regions around the eyes – particularly below them, the neck area and the back of the hands.
Quite often skin needling clients can see the outcome of their therapy almost immediately and other take longer with a more gradual improvement process. These people notice a difference after a period of eight to twelve weeks but there is no set time period for results. Everyone heals differently and his or her body's renewal time is unique. Many have found that using other skin rejuvenation options such as vitamin C and A will aid in maintaining collagen, preventing its loss leaving areas plumped. After a few treatments to achieve the desired result the effects of skin needling can last years.
Most people will likely need to have more than one and likely multiple therapy sessions to appreciate considerable progress in the look of deep lineage and especially scarring. The treatment effects are mostly cumulative and will normally be visible inside six to eight weeks from every procedure session. When judged against the extended recovery and healing times from laser resurface and chemical peels, the choice of skin needling and its quick recovery period make it a fabulous alternative therapy for cleaning up lines and scarring on the skin.
Tattoo Removal
What Is EliminInk Tattoo Removal?
You will learn how to correctly remove tattoos using EliminInk
EliminInk is a cutting edge tattoo remover that is implanted into tissue the same way tattoo inks and permanent makeup pigments are implanted in tissue using a tattoo or permanent makeup machine.  Only a properly trained and certified Permanent Makeup Technician or Aesthetician can perform the treatment after completing the Certification Course.
EliminInk can be utilized on both professional and home-made tattoos as well as permanent makeup on most areas of the body. The treatment is not color selective (unlike laser) and is effective on all color inks and pigments.
The treatment is very similar to being tattooed and topical anesthetic is used to numb the skin prior to treatment (if required).
The most extraordinary thing about EliminInk is that you will actually get to see the results in just a few days. Many tattoos require more than one treatment; however, the results are very impressive with EliminInk and a tattoo can be completely removed in just a matter of months, compared with the extended period of time one must dedicate to having a tattoo removed with a laser.